Chinese leading provider of marketing services for bloggers demonstrates its strength outside the borders of its home market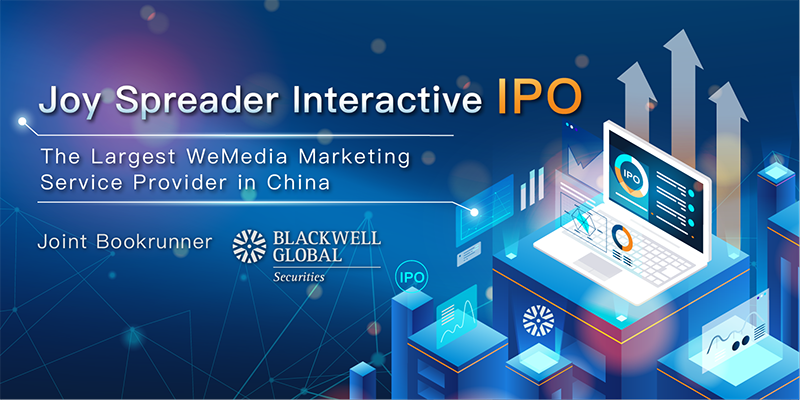 10 September 2020
Joy Spreader Interactive Technology (Joy Spreader), China's largest provider of marketing services to bloggers (more generally known as "We Media publishers" in China), Sept. 10, 2020 formally launched its initial public offering (IPO) in Hong Kong and expects to get listed on September 22. The company plans to raise US$200 million (HK$1.56 billion) through the IPO, offering 543,700,000 shares worldwide, divided into 54,370,000 shares for Hong Kong-based investors and 489,330,000 for international markets. The IPO price will be set at between HK$2.14 and HK$3.21 per share. The funds raised will be mainly used to enhance the company's marketing service capabilities for bloggers and expand its global presence.
Joy Spreader's IPO has received a great deal of attention from international investors and capital markets, all of which are optimistic about the long-term investment value. The company's shares have been subscribed by four top cornerstone investors, including US-based family office Acuitas Group Holdings LLC, Harvest Capital Management, Tencent-backed payment service provider Yeahka (09923.HK) and Capital Investment LLC, an investment arm of Abu Dhabi Capital Group which is managed by members of the royal family of Abu Dhabi, UAE.
With its strong sales network and synergies across the investment banking sector, Blackwell Global Securities, a wholly-owned subsidiary of Blackwell Global Holdings Limited, acted as Joint Bookrunner for the IPO and partnered with several international investment banks to assure that Joy Spreader completes the milestone, demonstrating Blackwell Global Securities' excellent ability to provide a full range of financial services. Although the freedom of movement of business professionals worldwide remains restricted as a result of the measures undertaken by different countries toward the COVID-19 pandemic, Joy Spreader's road shows prior to going public remained unaffected. Through arrangements with Blackwell Global Securities, all roadshows were held online where questions raised by investors were answered and the business model and investment value of Joy Spreader was explained. The roadshows received an enthusiastic response and helped to heighten the visibility of the offering.
Founded in 2008, Joy Spreader Interactive Technology is China's largest results-oriented provider of marketing services to bloggers, serving customers and bloggers through its proprietary and powerful AI technology and assisting customers in analyzing and distributing their products, with the goal of increasing traffic to their sites. The company also provides monetization services for its customers by deploying an algorithm-based product recommendation engine to help bloggers match suitable products with their fans' interests and preferences, increasing the traffic resources for customers. At the same time, the firm continuously enhances the accuracy and efficiency of the algorithm through the analysis of massive user behavior data collected by the monetization services, resulting in more customers and revenues.
In recent years, China's market for results-oriented marketing services for bloggers has experienced explosive growth, surging from 1.3 billion yuan in 2014 to 31.8 billion yuan in 2019, with a compound annual growth rate of 90 percent. With a market share of 1.5 percent (the highest share in the industry), Joy Spreader has become the industry leader in China and is expected to maintain the rate of growth in the future. The demand for remote work has increased while the stay-at-home economy has become a fact of life as a result of the pandemic. The ongoing application of emerging technologies will become a norm in China's economy. Big data and e-commerce are firmly on track to witness accelerated development. Being a leader in the market with a positive industry trend is a major factor supporting the continuation of Joy Spreader's rapid growth.
As an increasing number of companies seek to go public in Hong Kong, the IPO market in the region is expected to maintain rapid growth for the remainder of the year. Blackwell Global Securities will continue to leverage the momentum and huge potential of the capital market in a move to enhance the synergistic effects of its existing businesses while further expanding its securities business in the Asia Pacific region.